The Shujaa Stories Exhibition is a traveling exhibition that was launched on 9th Nov, 2018, at the Creativity Gallery, Nairobi National Museum.
The Guest of honour was Muthoni Likimani (She has worked as a broadcaster, teacher, publisher and author for over 65 years).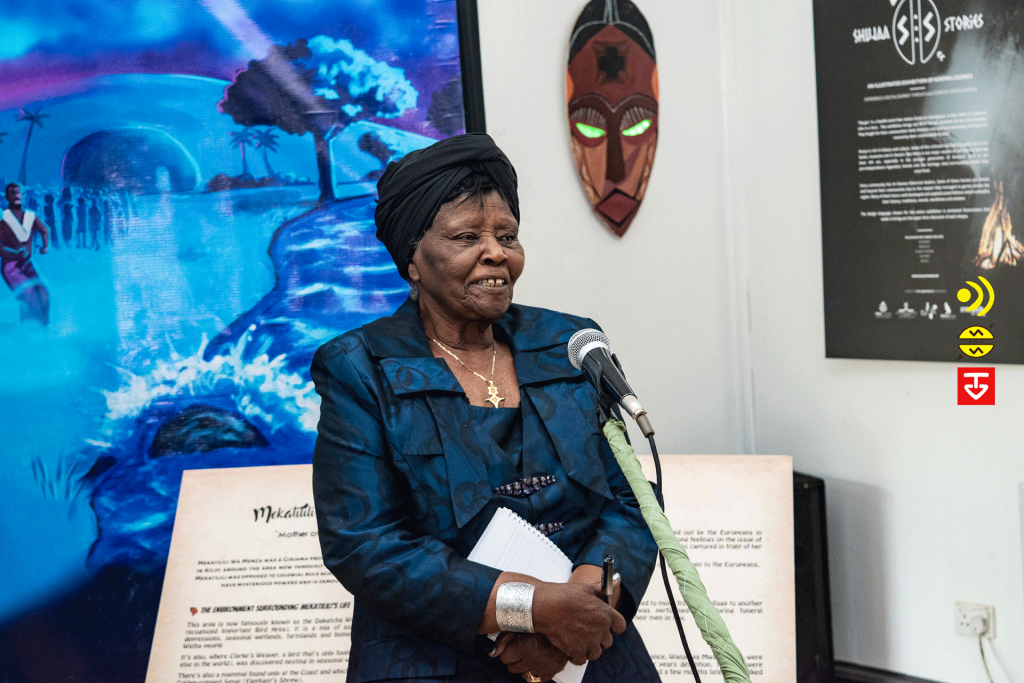 It is a digital art exhibition that takes the viewers through a journey of over 400 years of our pre-colonial period heroes.
We set the time scale to Kenya before 1920s since we believe that not many of us are well versed with what happened in our country before colonialism and who our leaders were before then. In some of the communities we go back all the way to the 1450s and we embark on an elaborate path through the various trials and tribulations that these leaders faced during their lifetime.
The exhibition has been tailored to have a greater impact to the younger generation as the artwork is set to portray the leaders in a magical and superhero way: a method that resonates well with them and their current interests in the digital media world.
The exhibition has been put up in partnership with the National Museums of Kenya (through its various departments), Nature Kenya and Tatu Creatives Ltd. The exhibition has been extended up to July, 2019. However, the Shujaa Stories project shall continue in terms of various programs involving the youth among other events. An example of such events is the Shujaa Stories Instameet Warrior Edition event held on Dec 8th, 2018, that attracted 81 photographers and models.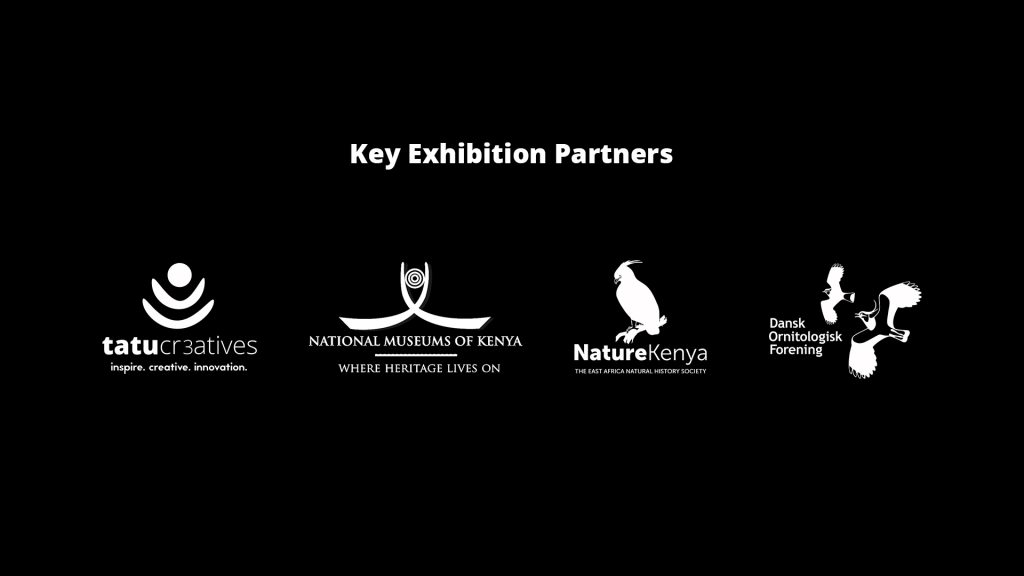 Exhibition Walkthrough Video
A few fun facts about the exhibition:
Part 1 of the exhibition covers 28 Shujaas (out of which 10 are women)
It covers all the former 8 provinces of Kenya
Over 30,000 guests visited the galleries in the museum which includes the Shujaa Stories Exhibition
Over 600 visitors left comments on the visitors book so far (these include Kenyans, international guests, organisations, and even young children who were inspired by the exhibition)
Shujaa Stories II Launch on Google Arts and Culture (online exhibition)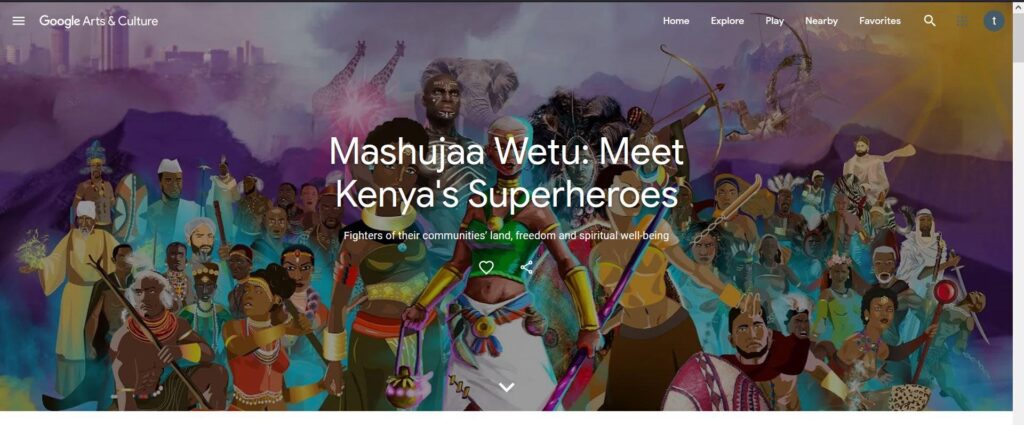 The online exhibition on Google Arts and Culture is part II of Shujaa Stories. In part I, only 28 superheroes were covered. Now, with the support of Google Arts and Culture and the National Museums of Kenya, a total of 61 superheroes have been covered. Each community in Kenya is now represented here.
Unfortunately, due to covid we were not able to do a physical exhibition for part II.
Click here to view audio stories from Google Arts and Culture
The Online exhibition also had a phyical launch at the Nairobi National Museum on Oct 19th, 2020. Due to Covid rules, only a small number could attend the launch. The guest of honour was Ambassador Amina Mohamed - CS for sports, heritage and culture of Kenya. Other special guests include Charles Murito, Michael Murungi - Government Affairs & Public Policy Lead, Mark Matunga - Africa Center for Advanced Technology ACAT, Agnes Gathaiya and Dr. Purity Kiura - Nairobi National Museums.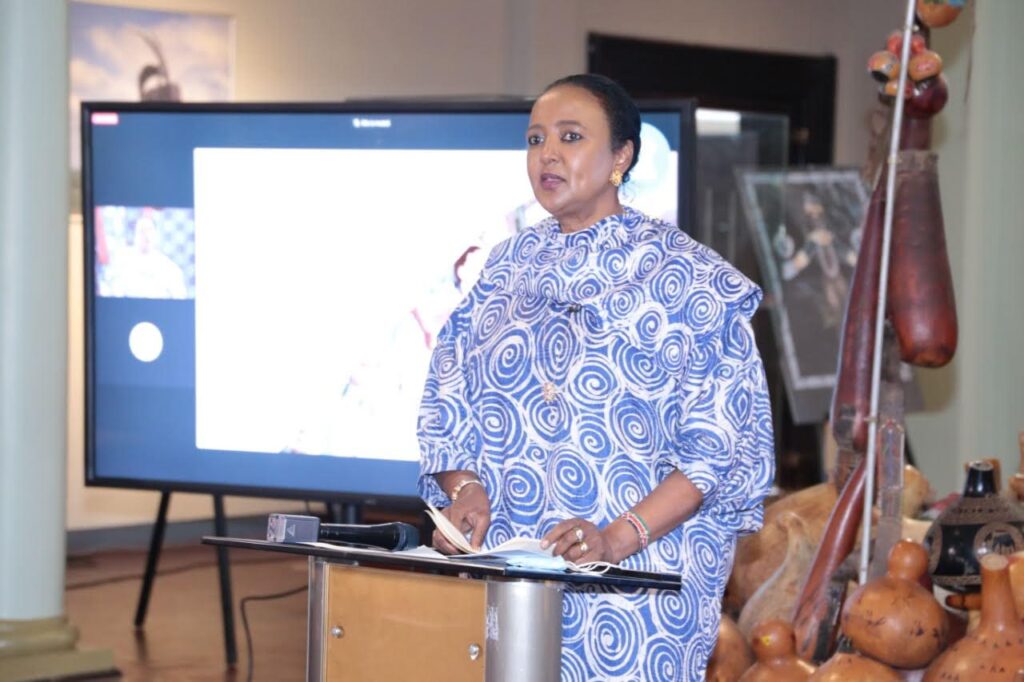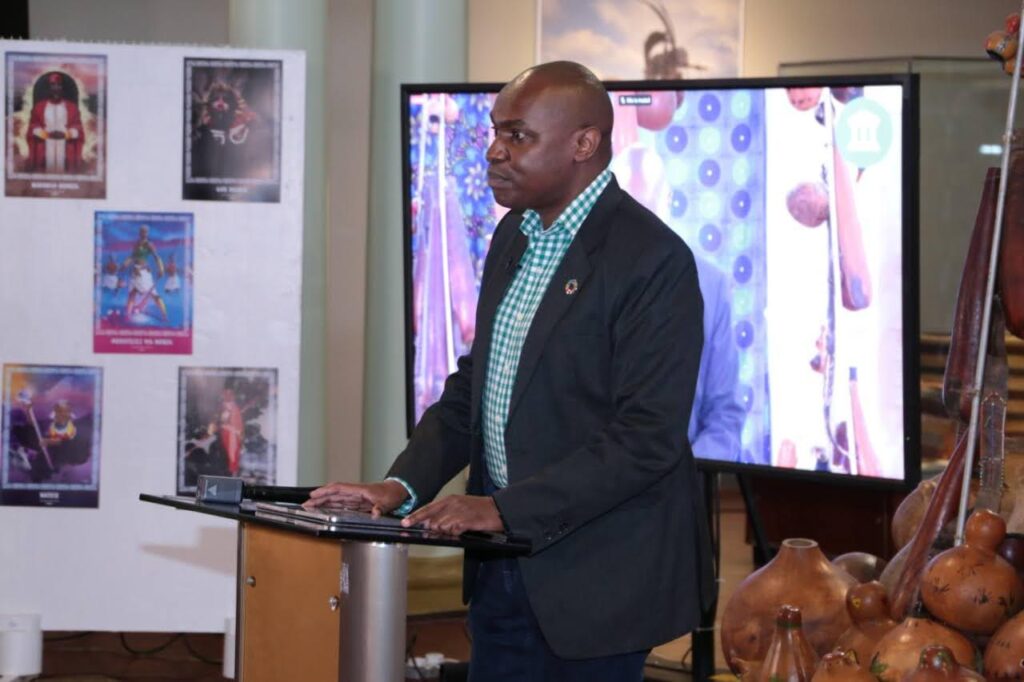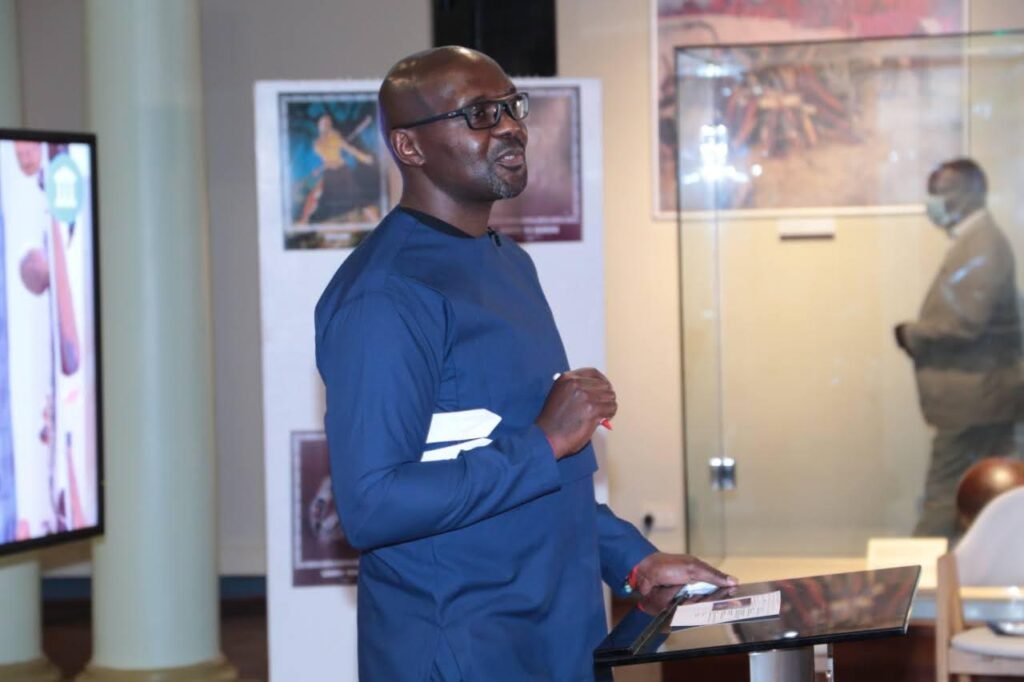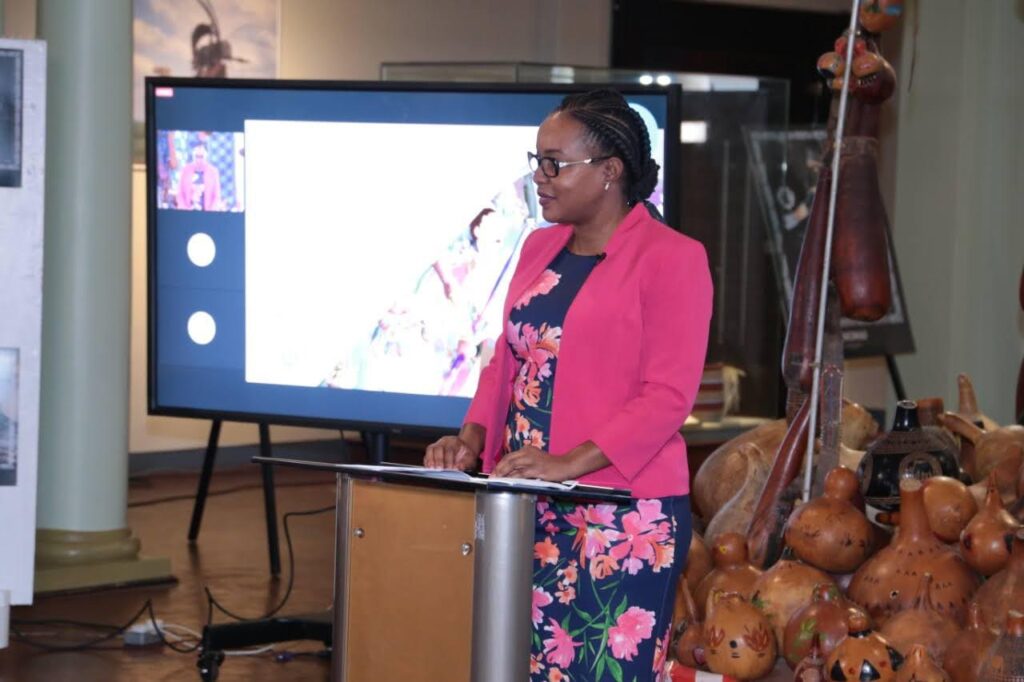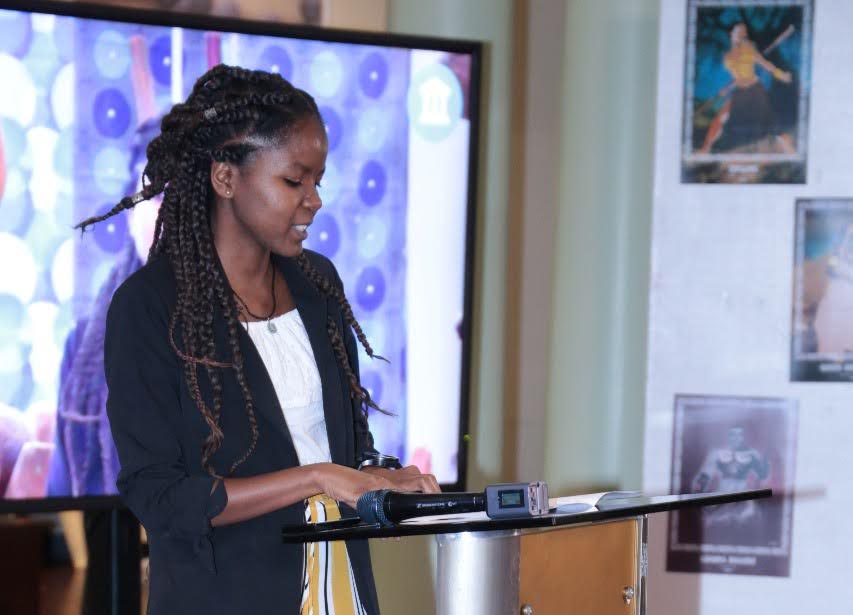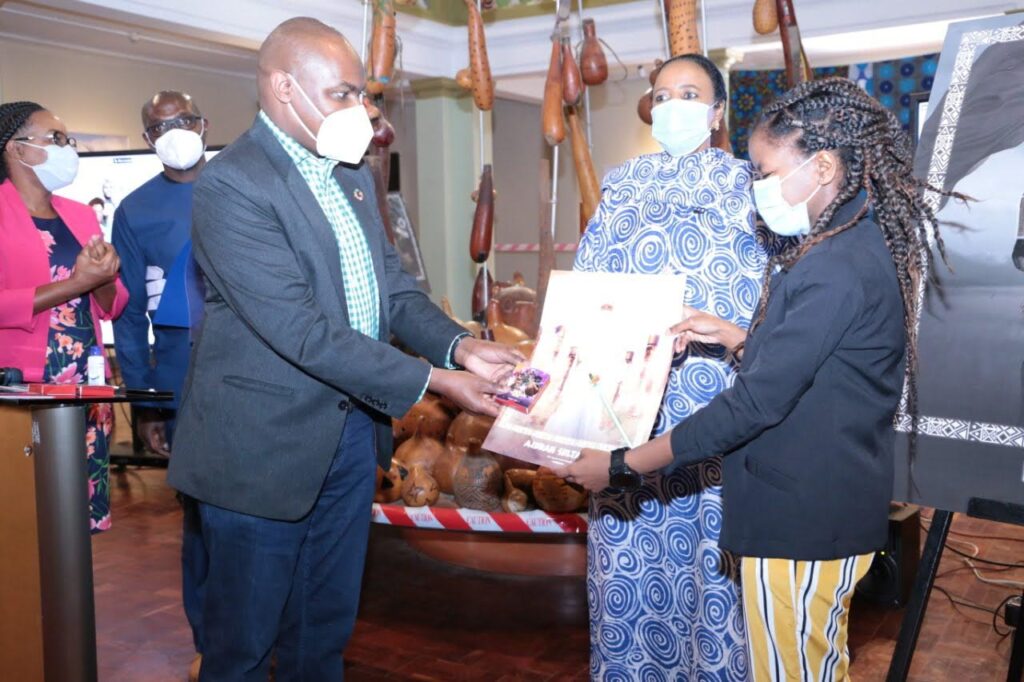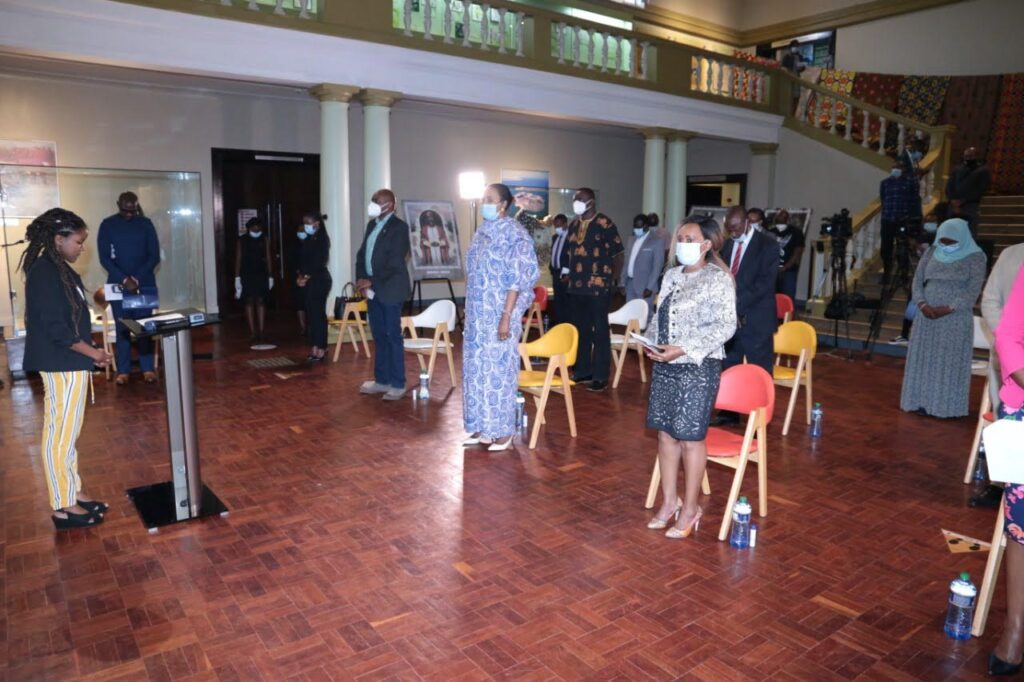 Click here to see the team behind this project
Shujaa Stories II 2021 Exhibition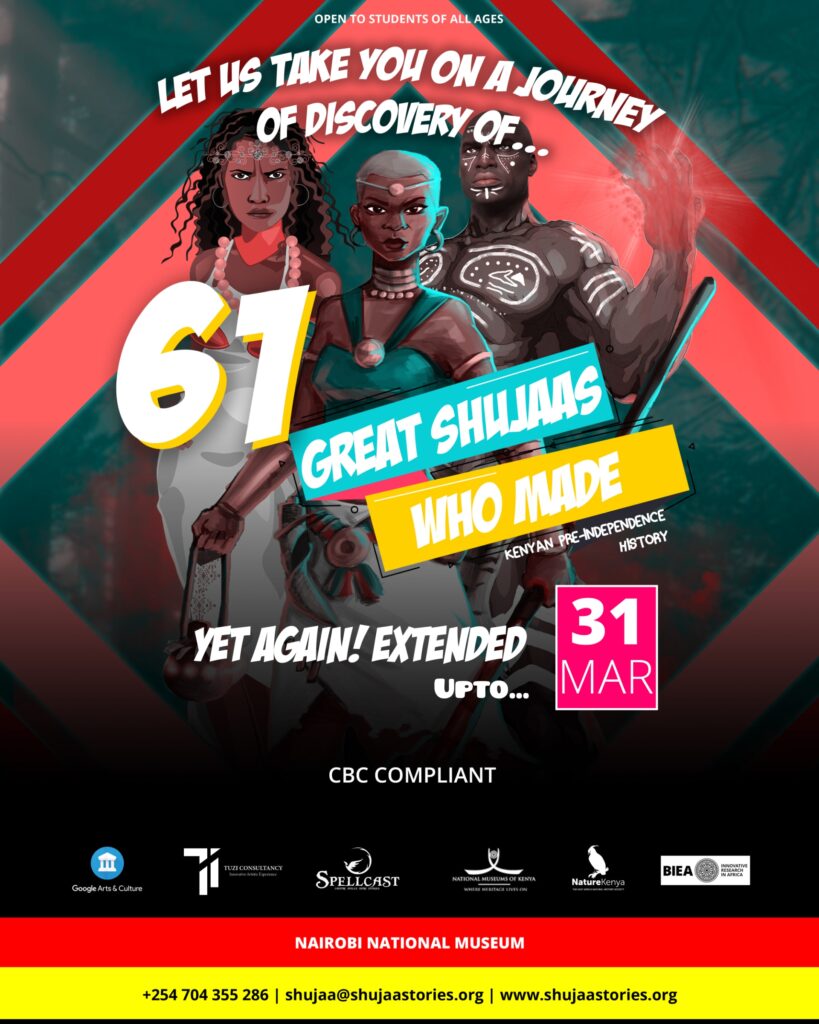 Shujaa Stories Part II was a chance to finally showcase the new stories that were not covered in part I. The public gets a chance to interact with the artwork and stories on a physical space, the Nairobi National Museum. The exhibition was opened on 11th of December 2021 and rans upto 31st of March 2022.
Our guest speakers of the day were Dr. Fredrick Manthi, Carolyn Mwendwa from the Nairobi National Museum, Mark Matunga from Africa Center for Advanced Technology ACAT and Martha Galavu form shujaa stories.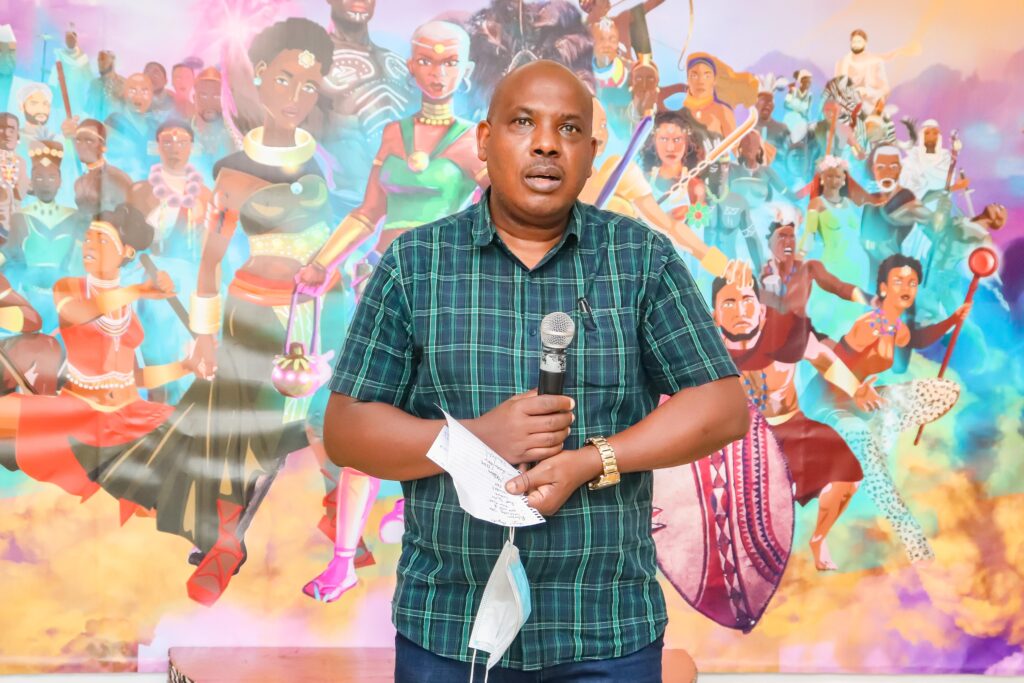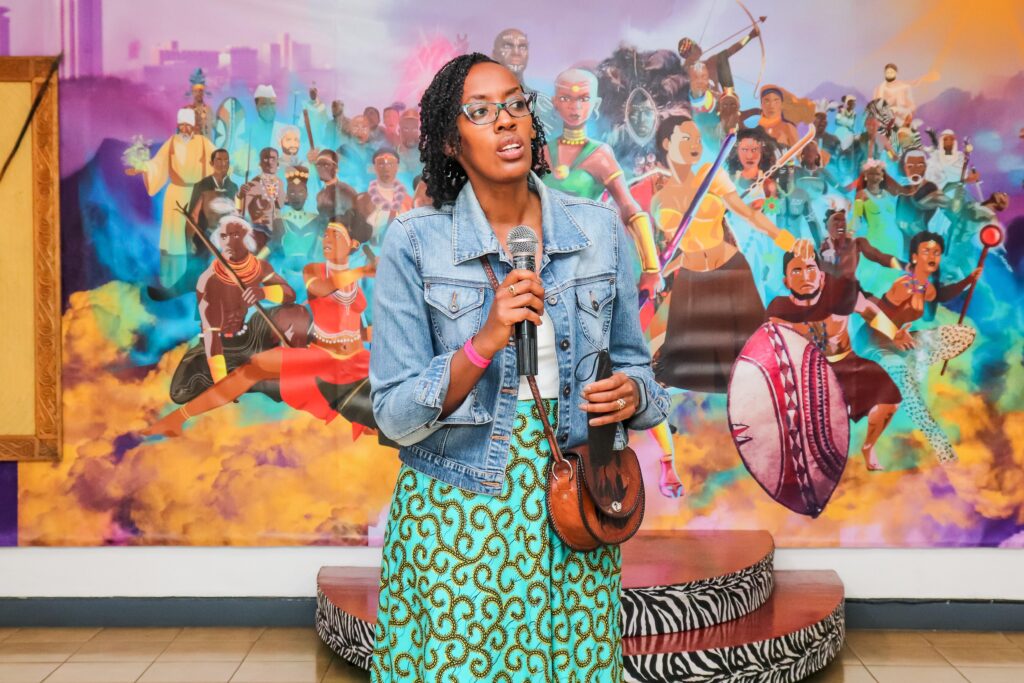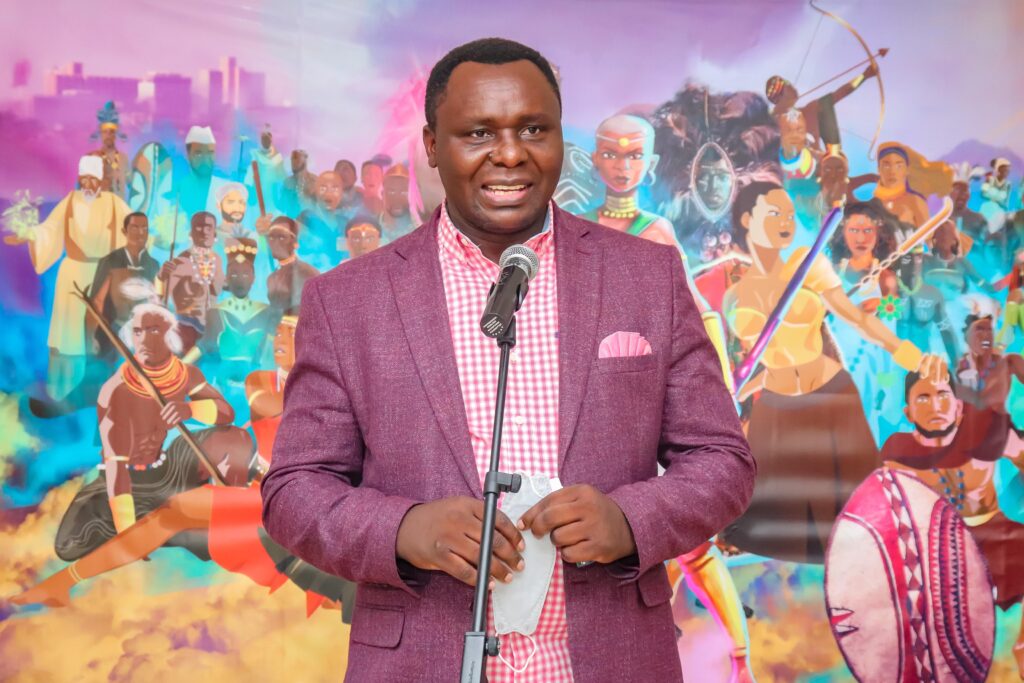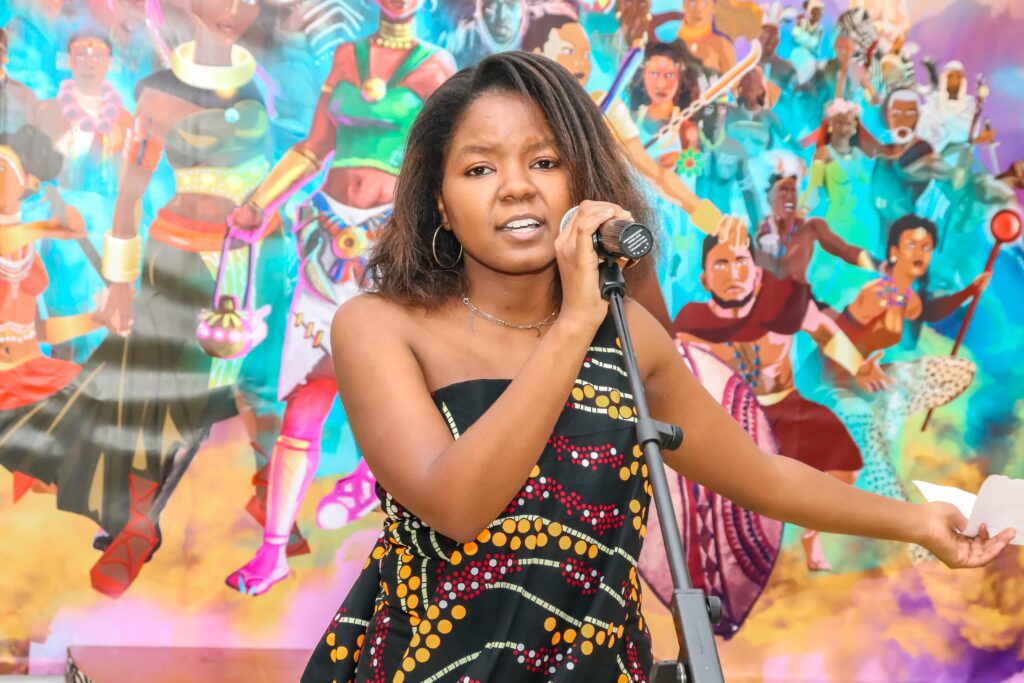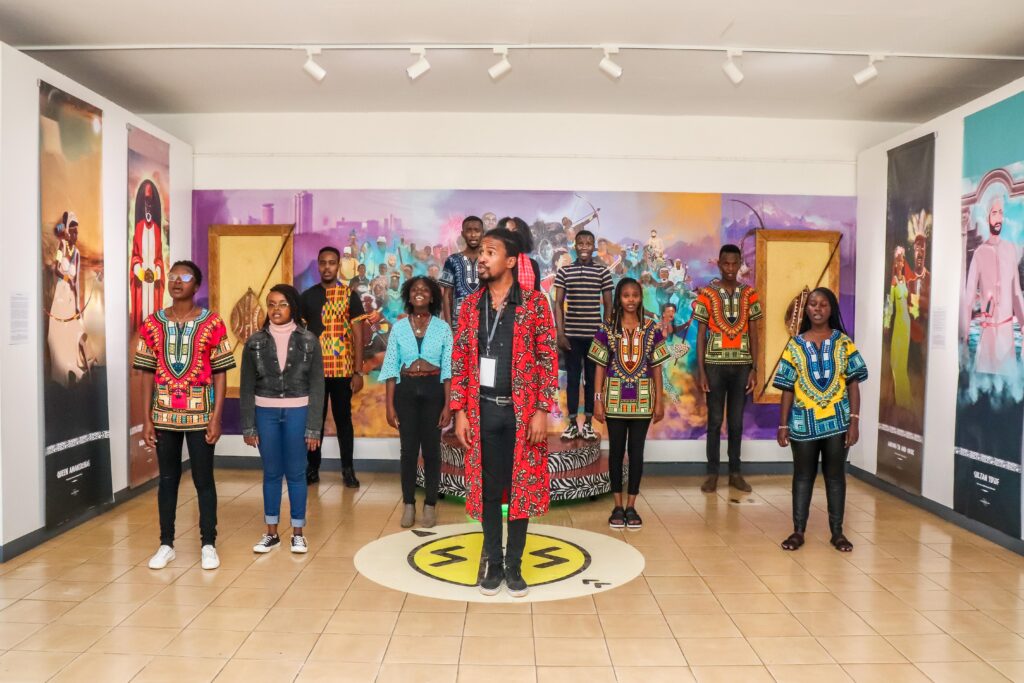 Spellcast casted their magic!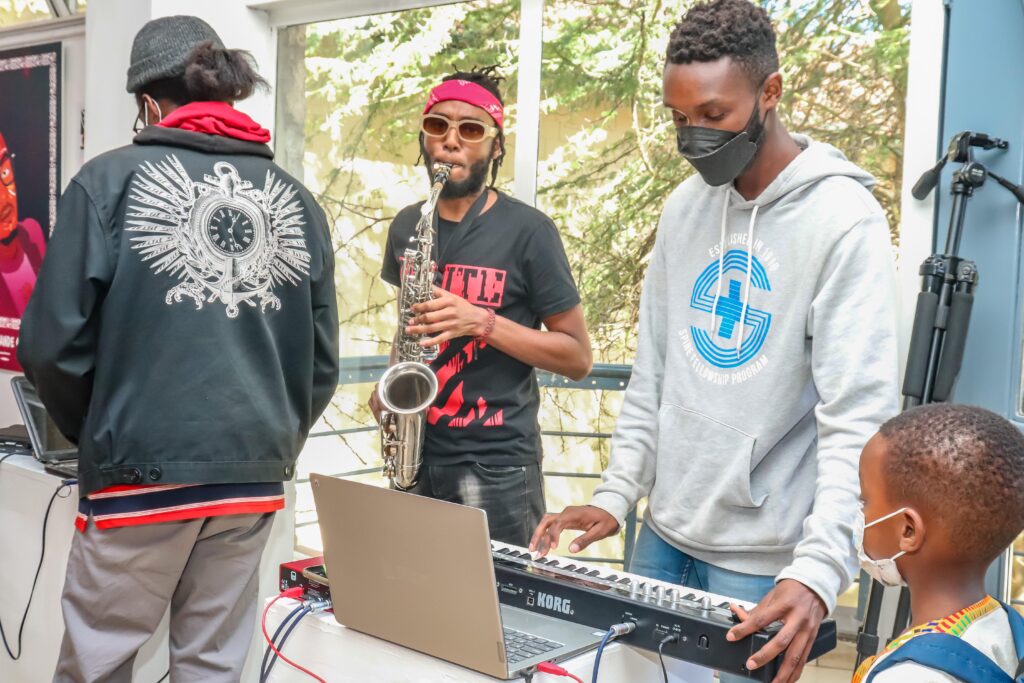 Afro Jazz Duo sent african jazzie feels!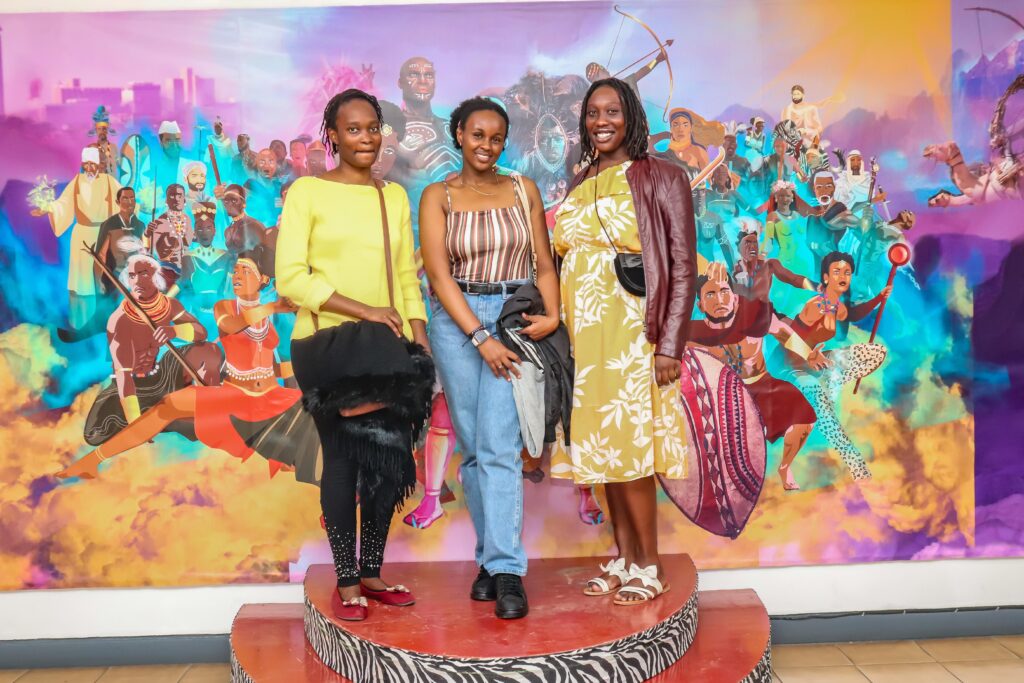 snippets of the exhibition
Exhibition Credit Board
At different parts of the project, Shujaa Stories has received immense support from various teams and would like to acknowledge all.
Exhibition Artwork and Installation Items
Shujaa Stories Team
Masidza Sande Galavu
Martha Shavuya Galavu
Jeffrey Onyango (@jcreativesmynd)
Sam Abasila
Sebastian Kiarie
Wachera Njaramba
Fiona Omollo
John Mark Mwangi

Research and story production
Carolyn Mwendwa
Innocent Nyaga
Brian Kiraga
Julias Juma Ogega
Daisy Okoti
Shani Mutarura
Jeff Muchina
Suzanne Wanjaria
Emmanuel Kariuki
James Nyaga
Paul Gacheru
Philemon Nyamanga
Mercy Gakii
Imelda Muoti
Raphael Igombo
Njuguna Gichere
Lydia Galavu

Lights and Wiring
Paul Mbugua and NMK Electrical Team
B.T Kim

Exhibition Setup Team
Suzanne Wanjaria and Exhibits Section Team
Bashir Jibril
Creativity Gallery Team
Elvis Ramboh
Andrew Oluoch
Ray Balongo Khaemba
Samuel Mwiti
Eunice Nthoki

National Museums of Kenya
Antiquities, Sites and Monuments
Nairobi National Museum
Exhibits Section
Cultural Heritage
Education Section
Audio Visuals
Maintenance

Photography and Videography
Eddy Ochieng
Linda Tambo
Juelz Laval
Njeri Muchina
Gakenia Kiniiya

SPECIAL THANKS TO
Nairobi National Museum Management
Nature Kenya
Google Arts and Culture
BIEA
ACAT
Sitawa Namwalie
John Sibi-Okumu